BEREC continues cooperation with the United States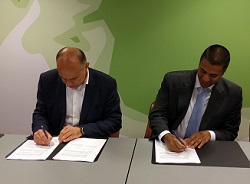 Today, in the margins of the Global Symposium for Regulators in Geneva, Switzerland, BEREC Chair Johannes Gungl and the Chairman of the United States Federal Communications Commission Ajit Pai signed a Memorandum of Understanding to continue cooperation between the two organizations.
The initial Memorandum of Understanding was concluded in March 2012. With the extension of the agreement the fruitful cooperation between the experts of BEREC and the Federal Communications Commission on topics of mutual interest like encouraging investment in broadband infrastructure deployment or the promotion of 5G continues.
"We are very pleased to continue and enhance our transatlantic cooperation. Facing the same challenges we can mutually benefit from an open exchange" said BEREC Chair Johannes Gungl.
The goal of the MoU is to encourage a cooperative relationship between the experts of both organizations and to support their efforts to address current and future regulatory challenges in both the United States and Europe.