BEREC events 2018
The 2nd Contact Network meeting for 2018  took place on 24 and 25 May 2018 in Riga (Latvia), kindly hosted by the Latvian Public Utilities Commission (SPRK).
The event was open for participation only to Contact Network Members. To increase the transparency of the Contact Network work the BEREC Office  publishes the meeting agenda and meeting conclusions.
The objective of the meeting was to prepare the 35th ordinary plenary meetings of the BEREC Board of Regulators (BoR) and the BEREC Office Management Committee (MC) due to take place on 13 - 15 June 2018 in Gdansk-Sopot (Poland).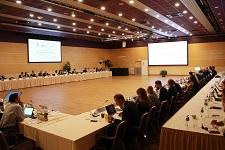 Related documents