BEREC events 2019
On 16 October, in Brussels, BEREC held its 7th Stakeholder Forum. The stakeholders from the telecoms and digital communications industries had the opportunity to interact with BEREC on cybersecurity in the context of 5G networks, to express their thoughts on the draft BEREC Work Programme 2020 and have a futurist's insight on the technology development.
The panel discussion on the cybersecurity challenges in electronic communications and in particular 5G networks were  to identify the efficient safety/security issues in today's fast moving environment. Erszbeth Fitori, the director General of FTTH Council Europe moderated the panel discussion and the engagement with stakeholders. After the opening remarks, the keynote speeches to the audience presented – Anthony Whelan, director of DG CONNECT, Dan Sjöblom, the incoming BEREC Chair for 2020, Jonas Wessel, the chairman of Radio Spectrum Policy Group  (RSPG) and cybersecurity expert at the European Union Agency for Cybersecurity (ENISA) - Marnix Dekker. During the panel discussion multiple distinguished speakers will share their ideas on the topic, such as professor Olav Lysne, director at Simula Metropolitan,  Hosuk Lee-Makiyama, director of European Centre for International Political Economy (ECIPE); Lidia Kozlowska, Senior adviser, Flint Global and Rosa Barcelo – partner and deputy Co-Chair, data-privacy and cybersecurity practice Group, Squire Patton Boggs.
The stakeholders input to the BEREC annual Work programme is highly appreciated, therefore the incoming BEREC Chair for 2020 - Dan Sjöblom introduced the participants of the event to the planned main duties for the EU telecoms regulators in 2020. Later, the BEREC Chair Jeremy Godfrey and recently elected BEREC Chair for 2021 Michel Van Bellinghen joined Dan Sjöblom on the stage to endorse the stakeholders' engagement in discussing BEREC's past, present and the future. Philippe Defraigne, director of Cullen International moderated the open engagement session. More information on the speakers and specific panels available in the agenda. At the BEREC Stakeholder forum it was also a good opportunity to listen to the internet publicist, futurist Tim Cole session.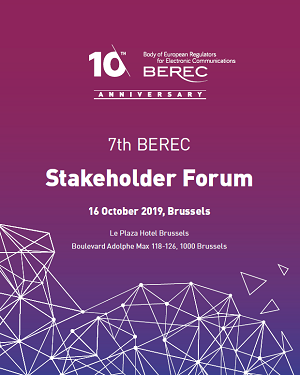 Related documents