At the Wireless Global Congress the incoming BEREC Chair invites to improve access to and the use of digital technologies for all its citizens
Promotion of the connectivity in the post-COVID era was the focus of the incoming BEREC Chair's Michel Van Bellinghen keynote speech at the Wireless Global Congress on 28 October 2020.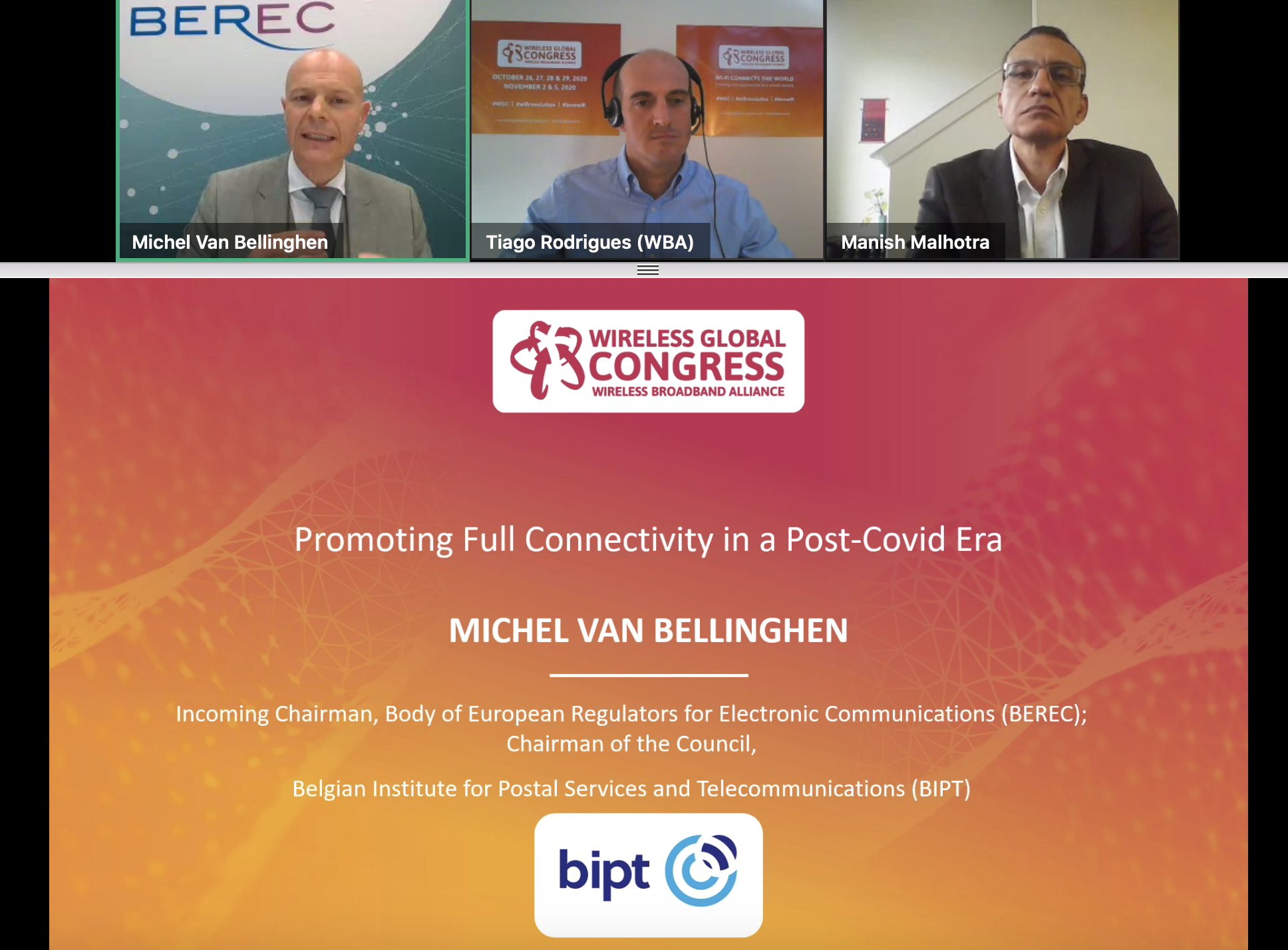 The incoming BEREC Chair explained that promotion of the full connectivity lies within the core objectives of BEREC work for the next five years. It means prioritising work that improves the general conditions for the expansion and take-up of secure, competitive and reliable high-capacity networks across Europe while ensuring a smooth transition from legacy infrastructures. In his speech, the incoming BEREC Chair emphasised that crucial policy objective is to ensure that very high capacity networks and 5G services are available on time and in line with European values and interests - security, protection of the end-user and environmental challenges. 
During the first phase of the COVID-19 pandemic, BEREC showed outstanding commitment in various areas such as monitoring internet openness and regulatory issues in general, supporting the European Commission on technical features of the tracing apps. Referring to the current situation worldwide, Michel Van Bellinghen assured, that BEREC will thoroughly analyse the experience gained during the COVID-19 crisis and will continue its effort further in the future.  
"One of the most pressing issues that the pandemic has shown regulators and policymakers is the importance of addressing the EU's digital divide. In that respect, the work done by the WIFI4EU program in collaboration with WBA to bring broadband to public spaces has and will continue to relieve some of these connectivity gaps," said the incoming BEREC Chair.
Michel Van Bellinghen invited to seize this historic opportunity to come together to use new regulatory approaches to improve access to and the use of digital technologies for all its citizens, as this is the key for fighting pandemics. To achieve it, more efforts shall be put into strengthening connectivity and investments. 
In his speech, Michel Van Bellinghen also touched upon the Digital Services Act – the new rulebook for the digital platforms. He called it as a game-changer for Europe and the rest of the world, as the main challenge relating to the digital transformation will be the need for more profound cooperation between regulators, on a national and a European scale.