BEREC Annual Report 2014 ePublication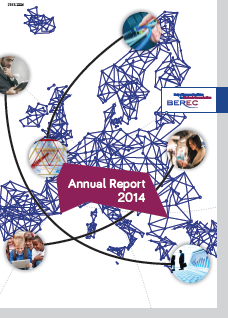 The annual report on BEREC activities in 2014 is based on the work streams and priorities identified in the BEREC Work Programme for 2014 as well as all other key activities in 2014.
The aim of the BEREC report on sector developments is to present the key trends in the electronic communications sector, addressing both market dynamics as well as the   development of EU regulatory practices and public policies. The report is based on the findings of the BEREC Expert Working Groups in 2014, but also adopts a forward-looking approach.
The report elaborates on the work conducted by the expert working groups (EWGs) and ad-hoc teams. In each section, following the description of the work performed during 2014, documents produced by the relevant team are listed. Article 7/7a cases are presented in the same way as well as the review of the BEREC working structure. BEREC external events, workshops and speeches and presentations made by the BEREC Chairs and other relevant meetings are listed in the annexes to the report.
BEREC has the obligation to adopt:
a) an Annual Report on its Activities
b) an Annual Report on the developments in the electronic communications sector.
Following the decision taken by the Board of Regulators in 2013, the two reports are presented as two parts (part A and Part B) of a single document and are published jointly.