Working Groups
Article 6 (b) of the Regulation (EU) 2018/1971 allows BEREC to organise its work into Working Groups (WGs). In order to implement the BEREC Work Programme 2023, and based on the Decision BoR/2022/05 of the Board of Regulators on the BEREC Working Groups and their Co-Chairs, the Board of Regulators (BoR) established 12 WGs for the year 2023. Core activity of the WGs will be based on the main pillars defined in the BEREC Strategy 2021-2025, as presented below.
In compliance with Article 13 (1) of the Regulation (EU) 2018/1971, the BEREC Office has to set up these WGs and to provide them with the support needed. The WGs develop the initial drafts of the BEREC documents, which are then submitted to the Contact Network that has the task to assist the BoR in the adoption of its decisions.
The final documents are approved by the BoR usually at its ordinary plenary meetings, or, in urgent cases, by electronic voting procedures.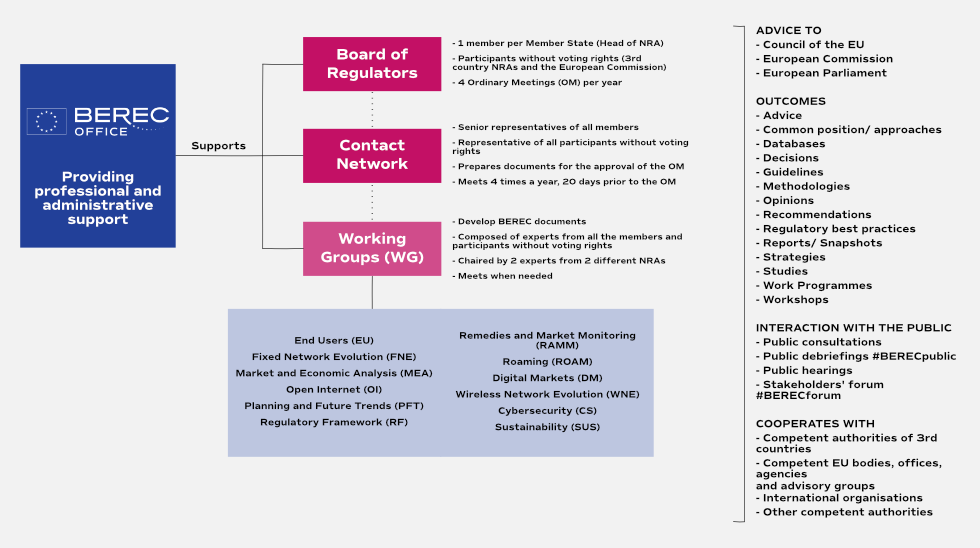 The tasks of the Work Programme are distributed among the different Working Groups. The work for 2023 is assigned to the respective Working Groups according to the list below.
Regulatory Framework (RF)

BEREC Report on the authorisation and related framework for international connectivity infrastructures
Ad-hoc input to the EU/NRAs
BEREC participation in the High-Level Group envisaged by the DMA Regulation
BEREC reflections on features of NRAs independence
BEREC Opinion on the functioning of BEREC and BEREC Office
BEREC report on national experiences of the implementation of the EECC

Open Internet (OI)

Report on the IP interconnection ecosystem (carry-over from 2022)
Input to the European Commission consultation regarding potential CAPs' contribution to network investments (carry-over)
Implementation of the Open Internet Regulation and the BEREC Open Internet Guidelines
Collaboration on internet access service measurement tools

Planning and Future Trends (PFT)

Report on cloud services and edge computing
Report on the impact of AI solutions in the telecommunications sector on regulation (carry-over) 
BEREC workshop on the perspectives and regulatory/competition challenges of Internet of Things
BEREC's input to the EU institutions on the Data Act
Study on the trends and policy/regulatory challenges of cloudification, virtualisation and softwarisation in telecommunication
Implementation of international cooperation
Developing the BEREC Work Programme 2024

Market and Economic Analysis (MEA)

BEREC Report on the regulatory treatment of business services (carry over)
BEREC study on evolution of competition dynamics of tower and access infrastructure companies not directly providing retail services

Digital Markets (DM)

Report NI-ICS interoperability
Open Digital Markets
Report on large CAPs in ECS-ECN

End Users (EU)

BEREC Report on Member States' best practices defining of adequate broadband IAS (carry-over)
Report on Comparison Tools and Accreditation (carry-over)
BEREC Guidelines detailing quality of service parameters
BEREC Opinion on Article 123 EECC

Roaming (IR)

BEREC Report on M2M and permanent roaming
International roaming benchmark data and monitoring Report
BEREC Input to the Commission on the Review of the Intra-EU Communications Regulation
BEREC Input to the Commission on the Review of the Commission Implementing Regulation on the Fair Use Policy and Sustainability of Roaming Regulation
Intra-EU communications Benchmark Report

Fixed Network Evolution (FNE)

BEREC internal workshop on the migration to VHCN networks and copper switch-off with a focus on the needs of the end-users
Update of criterion 4 of the BEREC Guidelines on very high capacity networks (carry-over)
BEREC Report on competition amongst multiple operators of NGA-networks in the same geographical region (carry over)
BEREC analysis of the European Commission legislative proposal for a revised BCRD

Wireless Network Evolution (WNE)

Report on practices and challenges of the phasing out of 2G and 3G
BEREC external workshop on secure and reliable connectivity in Europe from LEO satellite fleets
Peer review process

Remedies and Market Monitoring (RAMM)

BEREC Report on NRAs' annual reporting on the implementation of Article 75 of the EECC
BEREC Opinion on the review of the Access Recommendations
Article 32-33 Phase II process
Report on Regulatory Accounting in Practice 
Calculation of Weighted Average Cost of Capital (WACC) parameters 

Cybersecurity (CS)

Support in reinforcing EU's Cybersecurity Capabilities
Report on BEREC's activities to support initiatives for secure 5G networks

Sustainability (SUS)

BEREC Report on Indicators to measure environmental impact of ECNs and services (carry-over)
Potential ad-hoc work on ICTs sustainability in the frame of the European Green Deal implementation 
BEREC contribution on empowering end-users through environmental transparency on digital products and services