Working Groups
Article 6 (b) of the Regulation (EU) 2018/1971 allows BEREC to organise its work into Working Groups (WGs). In order to implement the BEREC Work Programme 2021 the Board of Regulators (BoR) decided to establish 10 WGs and two Ad-hoc Groups on 5G Cybersecurity and on Sustainability. Core activity of the WGs will be based on the main pillars defined in the BEREC Strategy 2021-2025, as presented below.
In compliance with Article 13 (1) of the Regulation (EU) 2018/1971 the BEREC Office has to set up these WGs and to provide them with the support needed. The WGs develop the initial drafts of the BEREC documents, which are then submitted to the Contact Network that has the task to assist the BoR in the adoption of its decisions.
The final documents are approved by the BoR usually at its ordinary plenary meetings, or, in urgent cases, by electronic voting procedures.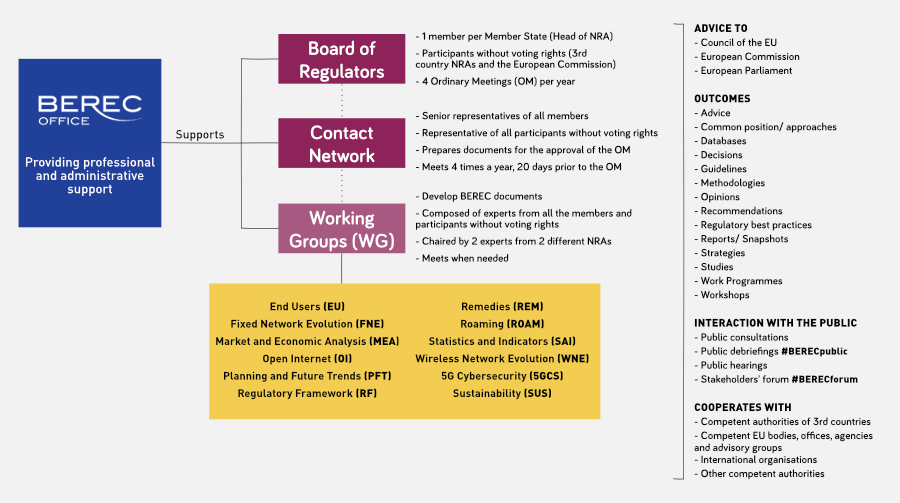 The tasks of the Work Programme are distributed among the different Working Groups. The work for 2022 is assigned to the respective Working Groups according to the list below.
Regulatory Framework (RF)

Ad-hoc input to EU institutions
BEREC Opinion access to emergency services
Database of value-added services numbering ranges
Database access to emergency services
Study on National Regulatory Authorities (NRAs') independence

Open Internet (OI)

Update Net Neutrality Regulatory Assessment Methodology
Collaboration on the Net Neutrality Measurement tool
Implementation of the Open Internet Regulation
Update to the guidelines on the Implementation of the Open Internet Regulation

Planning and Future Trends (PFT)

Report on 5G Value Chain
Report on Artificial Intelligence (AI)
Developing Work Programme 2023
International and institutional cooperation

Market and Economic Analysis (MEA)

BEREC Report on business services
External study on business services
BEREC report on the internet ecosystem (carry-over)
BEREC report/opinion for an effective enforcement digital gatekeepers

End User (EU)

BEREC Workshop Article 123
BEREC Report on access and choice disables end users
Workshop on digital divide
Report on Comparison Tools and Accreditation
Report on adequate broadband internet access service (IAS)
BEREC Opinion on Article 123

Statistics and Indicators (SAI)

Workshop on Article 22
Report on termination rates 
Report on number-independent interpersonal communication service (NI-ICS) indicators

Roaming (ROAM)

International Roaming Benchmark Data Report
Inputs to any legislative proposals of the European Commission on roaming
Intra-EU communications Benchmark Report
Update of the retail roaming guidelines
Update of the wholesale roaming guidelines

Fixed Network Evolution (FNE)

BEREC Report on migration and copper switch-off (carry-over)
BEREC Report on competition multiple Next Generation Access (NGA) networks
Update of criterion four of BEREC Guidelines on Very High Capacity Networks (VHCN)
BEREC Response to the Public Consultation on the revised EC State Aid Guidelines

Wireless Network Evolution (WNE)

Workshop on Open Radio Access Network (RAN)
Report on Satellite connectivity
Peer review

Remedies (REM)

BEREC Opinion on the Review of the Access recommendation (carry-over)
Article 32-33 Phase II process
Workshop BEREC Common positions remedies
Report on Regulatory Accounting in practice 2022
BEREC Report on Weighted Average Cost of Capital (WACC) parameters 2022 

5G Cybersecurity (5GCS)

Network security and cybersecurity

Sustainability (SUS)

Sustainability report (carry-over)
Indicators to measure environmental impact of ECNs/ECSs